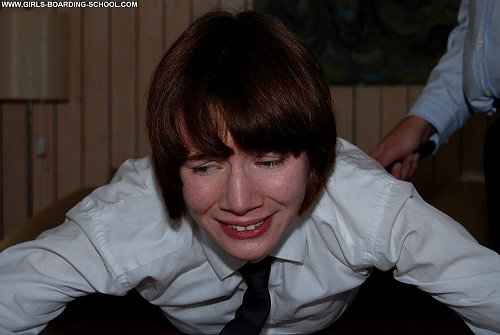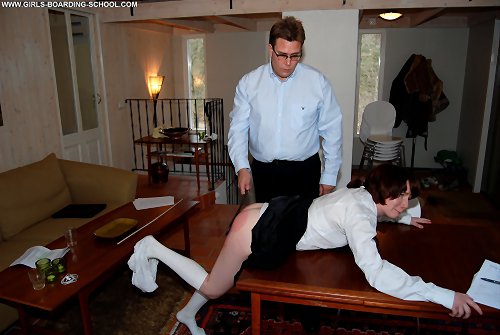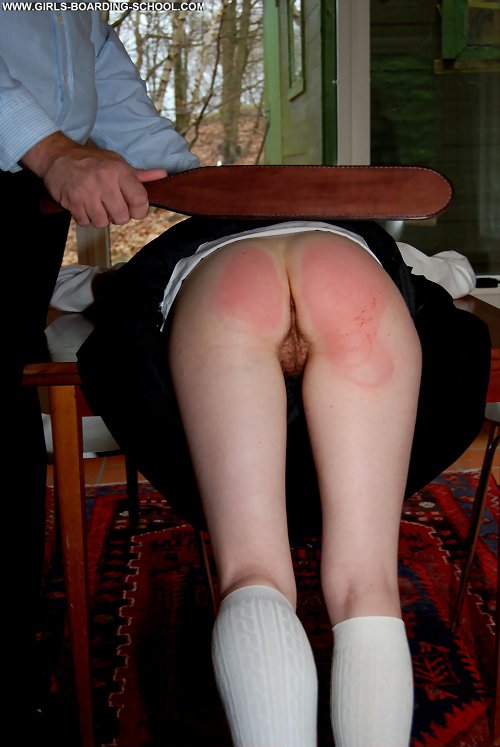 Simone is a newcomer at girls-boarding-school, a small and tiny girl with brown hair, light blue eyes and a tight and firm little bottom. She has been sent there by her parents because of her bad behaviour in previous school. She does not care about the strict rules at the new school. She is nosy and rude against teachers and other members of the staff. The headmaster in charge, Michael, decides to call for Simone and give her a lesson she not will forget in a while
Standing in front of the headmaster, Simone continues with her nosy attitude as well as to insult the teachers directly into the headmasters face.
The headmaster gets really upset about Simons attitude. She is told off and ordered to bend over the desk and waiting for her punishment. Headmaster is folding her skirt up over her back and very soon also lowers her knickers. Simone is standing with her small, nice firmed bottom totally bare, and the headmaster is giving her a severe paddling with a thick leather paddle. Simone changes her attitude and is crying out her pain and starts to regret everything she has said. She is screaming, wriggling around and snivelling.
Her cheeks are slowly turning into red and as longer the punishment proceeds, Simone can not hide her secret place, so everything is visible.
Even if Simone maybe thinks that her punishment is over when the headmaster orders her to stand up, headmaster Michael has other plans. The humiliation and punishment have just begun!
Simon is told to take all her clothes off. She feels really embarrassed and hesitates, but she realizes that there are no other options than to obey. Soon she stands totally nude, except from her white knee-high school socks, in front of the headmaster. She is holding her hands in front of her little pussy, and she looks really embarrassed, where she stands with her red spanked bottom and her small, nice tits visible.
Soon Simone is placed over an old-fashioned wooden chest for receive the first caning of her life, on her already red and sore bottom. She is crying and makes promises, but everything is too late for Simone, the cane has already started to dance on Simone's bare bottom.
Before the punishment is over, Simone has to bend over completely and touch her toes for the final six strokes of the cane. She has to count out every stroke in a loud voice and thank the headmaster.